NOTE: DUE TO COVID-19, EVENTS FOLLOWING MARCH 15 HAVE ALL BE POSTPONED UNTIL A LATER DATE OR POSSIBLY CANCELLED. INFORMATION ABOUT THESE EVENTS IS CURRENTLY ALL TBA.
I have a lot of amazing events coming up this year, and hope to add a lot more stilt walking performances to my calendar in 2020! If you would like to add some truly memorable magic to your next event, contact me for a booking today!
Winter 2020
Jan 17 – Iskwé Performance at the Mod Club, Toronto
I will be performing the Hamilton Aerial Group throughout the venue, leading up
to the concert! What an amazing way to start off this year's performance lineup!
7pm – Buy tickets HERE!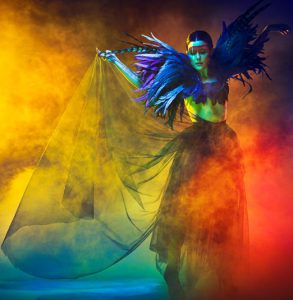 Jan 18 – The Cotton Factory's 5 Year Anniversary Celebration!
5pm-11pm! An amazing celebration of all artists and businesses at the Cotton Factory! Come and see incredible installations, exhibits, and performances all afternoon! (Unfortunately I was unable to attend due to a snow storm!)
Feb 12-15 – The Hamilton Aerial Group is bringing our newest annual production to Frostbites and will be performing at The Waterfront Trust in Hamilton this winter! Stay tuned for more information as we build our show by following me on Instagram @flyingfox_studio, and by following the Hamilton Aerial Group @hamiltonaerialgroup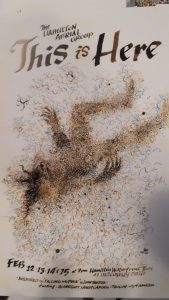 Feb 21 – We The Nordic event at the Cotton Factory
I will be performing on aerial sling, and as a 4-legged stilting deer!
Embrace Your Inner Viking with Nordic Style Tastings
and Scandinavian Vodka, Experience new Nordic cuisine from the Baltic Sea to Hamilton
Musical Performances, Live Cooking Demos, and more!
Featuring:
Hamilton Aerial Group
Tor Lukasik-Foss
"Laululinnud" Helmi and Merike Hess
Norman Reintamm, Pianist
Paul Lillakas, winner of Chopped Canada and CityLine chef
Tickets on sale through Eventbrite
Tickets will go quickly so get yours asap!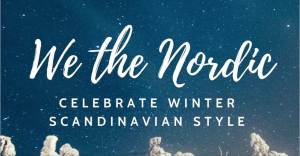 Feb 29 – Fly With Me "Twisted Tales" Student Showcase!
I will be announcing all of the amazing performers as a water spirit
Hastrman/Vodník of Czech folklore and legend (on stilts!)
2pm at Fly With Me
163 Sterling Rd, Unit 113, Toronto, ON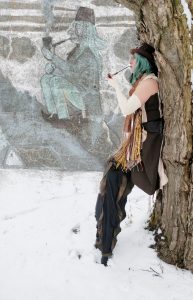 Mar 7 – ROAR, A Night Market and Performance Pop Up Event
Located at the Cotton Factory, Saturday March 7th, from 6pm-11pm
The Hamilton Aerial Group will be performing its new mini show "Waterborne"! I'll be on stilts as part of this amazing new show at 9pm on the 3rd floor of the Cotton Factory.
ROAR is about courage, empowerment, speaking out, standing up for a cause, speaking ones truth, believing in self, acknowledging and taking action.
Come celebrate, be entertained, engage, be empowered, ROAR.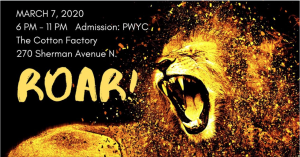 NOTE: DUE TO COVID-19, THE FOLLOWING EVENTS HAVE ALL BE POSTPONED UNTIL A LATER DATE OR POSSIBLY CANCELLED. INFORMATION ABOUT THESE EVENTS IS CURRENTLY ALL TBA.
Mar 28 – The Clay and Glass Gallery of Waterloo
Parisian Themed Gala Event, performing on aerial silks
Apr 4 – Army of Sass presents Wonderland at the Arnie Theater!
Join the sensational dancers of AOS Burlington + Hamilton as they follow Alice down the rabbit hole to: WONDERLAND!
"Have I gone mad?"
"I'm afraid so, you're entirely bonkers. But I'll tell you a secret… all the best people are…"
I will be performing on stilts at the opening of the event with always amazing Emma Smith, so if you see some very tall flowers roving about, be sure to stop by to say hello and take a photo or two on your way to Wonderland!
VENUE: ARNIE HALL @ Mohawk College
Doors @ 7pm
Show @ 8pm
Afterparty @ 930pm
** this is a licensed event
Tickets $25 in advance, $30 at door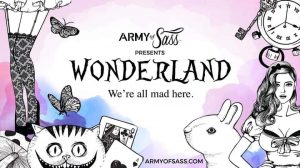 Jun 6 – Hamilton Barton Village Festival
I will be performing with The Hamilton Aerial Group once again at this fun annual event!! Be sure to mark your calendar and come by to say hello!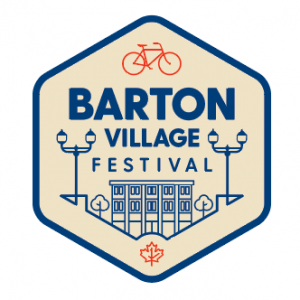 Jun 18 – Taste of Glenhyrst – La Saveur en Blanc
Thursday June 18, from 6pm-10pm
I will be performing with the Hamilton Aerial Group at this amazing annual event!
We can't wait to reveal details of this year's theme and concept for a truly magical white party like no other!
Tickets will go on sale: Tuesday March 24 @ 10AM